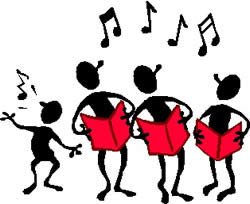 This is a very busy time of year. Sometimes when we are practising for our concerts we forget that a warm up can be useful in focusing on a skill that will help us do our best work on the pieces we are shaping up for concerts. Here are some really simple but effective ways to fix a small problem and get the mojo going. Click on the name of the song if you forget what it sounds like. You may have another that will do much the same job.
If You're Happy & You Know It
- If you have staccato or legato changes so that with this wee song. You could also try slides, clean phrasing
clapping, snapping, shake hands.
My Bonnie
- If you click on the My Bonnie Lies Over the Ocean link you will hear a good rendition of this children's song. The Intervals & pronunciation really make this one a good one to do. this is always a great song to get the letter "b" formed correctly. It's called the "bouncing B" for a reason.
P.S. If you have a children's choir or people who get restless here is a great bonus activity. On the first word starting with "b" stand up. On the next "b" word, sit down. The chorus needs directing, Bring back, oh bring back, oh bring back my Bonnie to me, to me. REPEAT. I LOVE this one.
Partner songs -
Row, Row, Row Your Boat
&
3 Blind Mice
- These are songs you can sing together. This is especially good for children or amateur singers to get used to harmony. You can sing one staccato, while the other group is singing legato, then switch. Sing with varying dynamics decided upon before you sing or with signals as they sing.
Hokey Pokey - or Hokey Cokey
in the U.K. You can sing this sitting or standing for just plain good exercise. Then sing it watching out for slurs or do them on purpose. You can use these words to crisp up the diction.
These are just a few suggestions. Anybody have any other ideas?